Action Quake II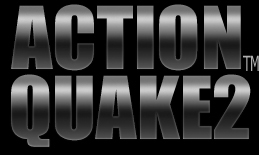 Info
Ever seen a great action movie and thought to yourself:
"Sometimes I wish Quake2 was more like this!"
Well, so have we, and we did something about it...
The Idea:
We wanted to try and make a Quake2 MOD where strategy, accuracy, and just damn cool looking fights dominate. We tried it, and it's the most fun we've ever had in a DM game, we think you'll feel the same way when you try it.
The idea is that each bullet counts for a lot, but that doesn't mean you shouldn't pump them full of as many bullets as you can spare; they'll get a chance to shoot back before they die if you don't finish them off. Cover actually means something, it's better to make sure there's a pillar or a desk near by to duck behind, especially if you have to reload or bandage yourself.
Once in a while it's nice to get away from the rocket launcher/bfg fights, and see what it's like to fly up from behind the bar with a shotgun, or to drop behind your enemy through a skylight, executing them with one bullet. Plus, you look damn smooth while you're doing it!
Screens
Installation
Simply have to unzip all the files to the directory [...]/quake2/action/.

How to play
Run Quake II with the parameter +set game action.
Downloads